West High School NOW
West High News Now
WWHS Graduation 2023 ~ CONGRATULATIONS!

********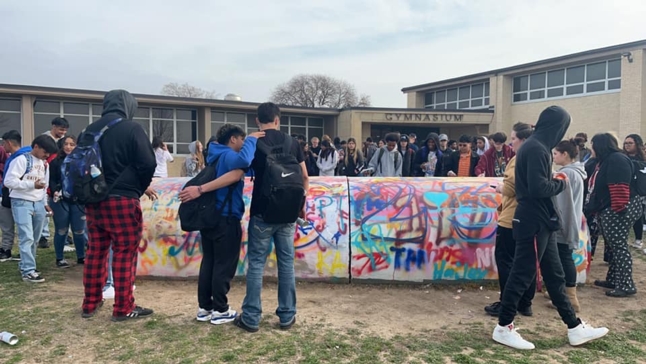 West high school Senior class of 2023 brought back the tradition of Paint the Hump!
#WWGU2023 #PioneerProud #Tradition #Senior
---
---
TODAY'S PIONEERS NEED OUR SUPPORT! YOU CAN HELP WITH JUST A PHONE CALL TO KERRI GREEN AT WEST HIGH SCHOOL, 316-973-3607 !
Buy a Brick or a Bench at West High (Contact the school)

Donate to Our Class Scholarship Account

Buy a T Shirt (See link Below)

Check Out West High Booster Club on Facebook!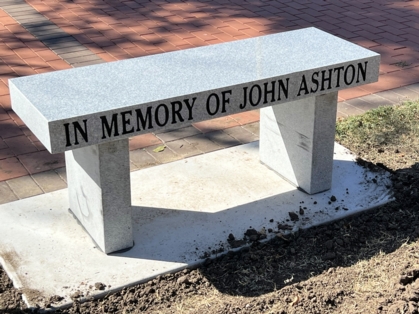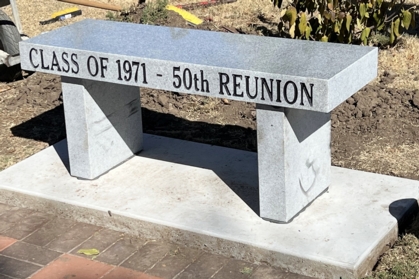 This bench for our class and remembering John Ashton is placed along the brick walk at West High!!! Thank you Marcia Ohmie Ashton, Bruce Unruh, and all those who helped with this project!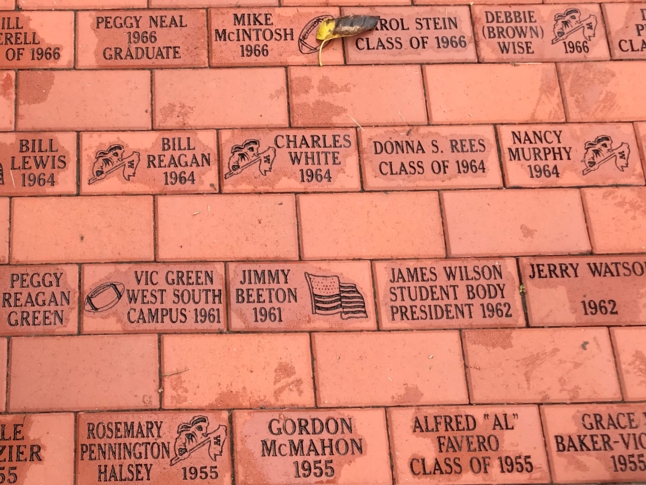 ---
---
West High alumni help build back school's academics, pride.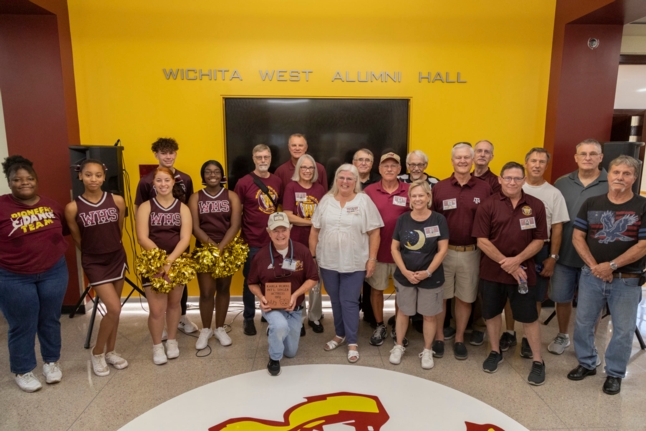 Let's Go Pioneers!
West High Pioneer Booster Club
SWAG SHOP: MERCHANDISE Online Ordering Coming Soon!
Our Booster Club has t-shirts, hoodies and tumblers available: https://www.usd259.org/Page/21917
---
* Answer to ???s from Home Page:
1. How many students are in WWHS now? There are 1438 students in WWHS, which now includes 9th grade. There are 276 Seniors compared to our 628 in 1971.
2. How many students at WWHS now receive free or reduced lunches?
The percentage of West High School students on free and reduced lunch assistance (83.2%) is significantly higher than the state average of 43.1%.
3. How many students graduated in the first graduation ceremony?
The first graduation ceremony was held at The Forum on May 27, 1954, and included 250 students, according to an article in the Eagle May 28, 1954. Those kids would have been transfers from North or East High Schools. The first all-West cohort was in 1956, and had 408 graduates.That was also held at The Forum.
4. How many students attended Wichita West High School in it's first year? There were approx. 1100 students attending WWHS when it opened its doors in September, 1953. The West Wichita Community Council first started campaigning for a school in that section of town in 1925.
5. What is the student / teacher ratio now at WWHS?
The ratio of students to teachers in now 15.3 to 1. The highest rate recently was in 2013 at 19.5 to 1. The lowest was 13.4 to 1 in 2006.
6. What are the student proficiency scores at Wichita West High School now? According to state test scores, 7% of students are proficient in math and 11% in reading. The total minority enrollment is 71%, and 89% of students are economically disadvantaged. These factors make it very difficut for parents, who are probably working, to help students with their homework, the way our parents may have. Can you help tutor some of these kids after classes? Many of you are retired teachers, and all of us had English as our first language at home. Please consider giving these kids a little of your time!
* Thanks to our unofficial "historian" Jim Mason, for his WWHS trivia research. Check back for more WWHS Now Stats.
---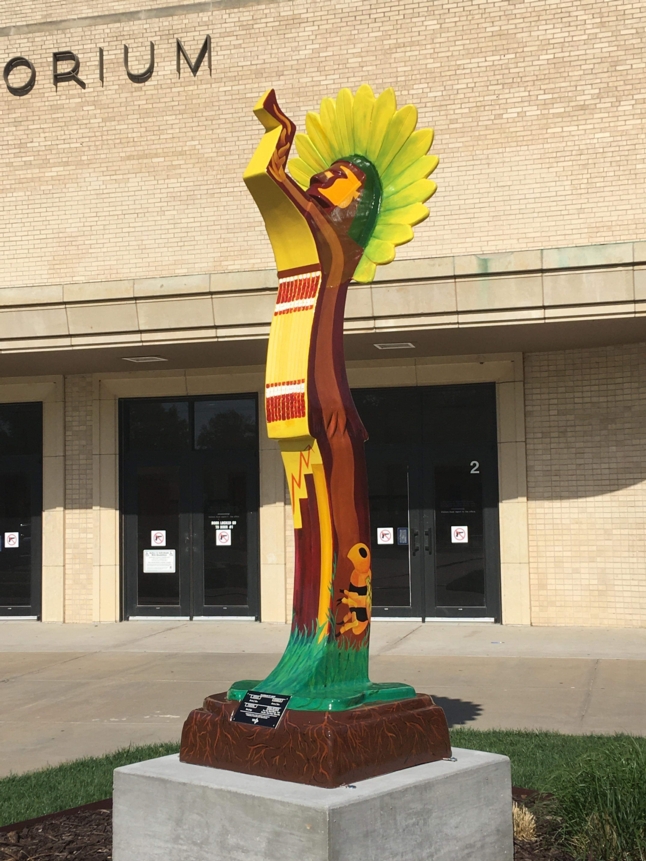 Wichita West High "Keeper"
(design/painting by WWHS 2022 art students)
---
---
West High School Alumni Hall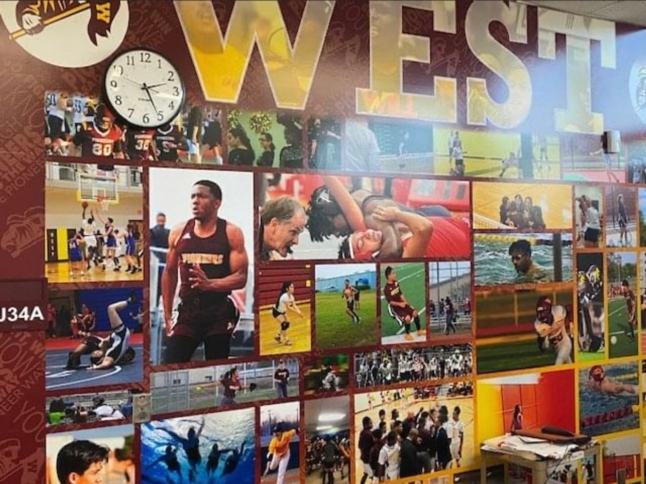 Congratulations to All Alumni Hall Inductees, and those who have made us Proud to be Pioneers!
---
---
West High Trades Scholarships 2021-2022
The 50th reunion committee decided, with the help of a counselor at West High School, to help students who cannot afford the tuition or materials they need in order to go to a trade school or job apprenticeship. This may include books, special clothes or boots, etc. Class of '71 donated $1500! Thank you for your generosity!
These are the recipients for 2021-2022
Kimberly Rader
Kimberly Rader is a member of the Class of 2022 and plans to attend a university to study Radiologic Technology. At West, Kimberly is involved in Hispanic American Leadership Organization (HALO), Student Leadership Council, AVID, Cheer, and National Honor Society. Kimberly spoke highly of her time at West in her scholarship essay and told the following story; "Once a woman asked me what school I went to. As the word "West" was said, her face fell…There is a misconception that West High is not a "good school." This is further from the truth. West High has many distinguished graduates, despite being considered a "lower-income" school. West High has several programs and resources to help students be successful in life, such as AVID. The most valuable lessons AVID has taught me are: how to organize my time, study efficiently, and how to collaborate with my peers". Kimberly goes on to describe the many other resources she has received at West. She ends with this message many students can agree with, "because of West's resources I am prepared to transition to my next years of learning in college".
Alicia Reyes
Alicia is a member of the Class of 2022 and plans to attend Wichita State University. She would like to study business so she can help her family's two growing businesses. Alicia has been very involved at West High School. She is the Vice President of Hispanic American Leadership Organization (HALO), and a member of Student Leadership Council, Educators Rising, the Pep Assembly Committee, and Marching Band. In her scholarship application she says, "West High has taught me to never give up on my dreams and keep pushing".
Cesar Sillas
Cesar Sillas is a member of the Class of 2022 and plans to be a welder after high school. He is considering WSU Tech to further his skills. He would like to be a welder because there is a high demand and he already is skilled in the field due to his courses at West High. Cesar says that West High has prepared him with "programs and classes, like the welding program. It has taught me how much the industry will grow…and all of the financial benefits".
Thank you for your generous donations to help West High Pioneers continue to excel!